Derwent Academy Sketching Set 19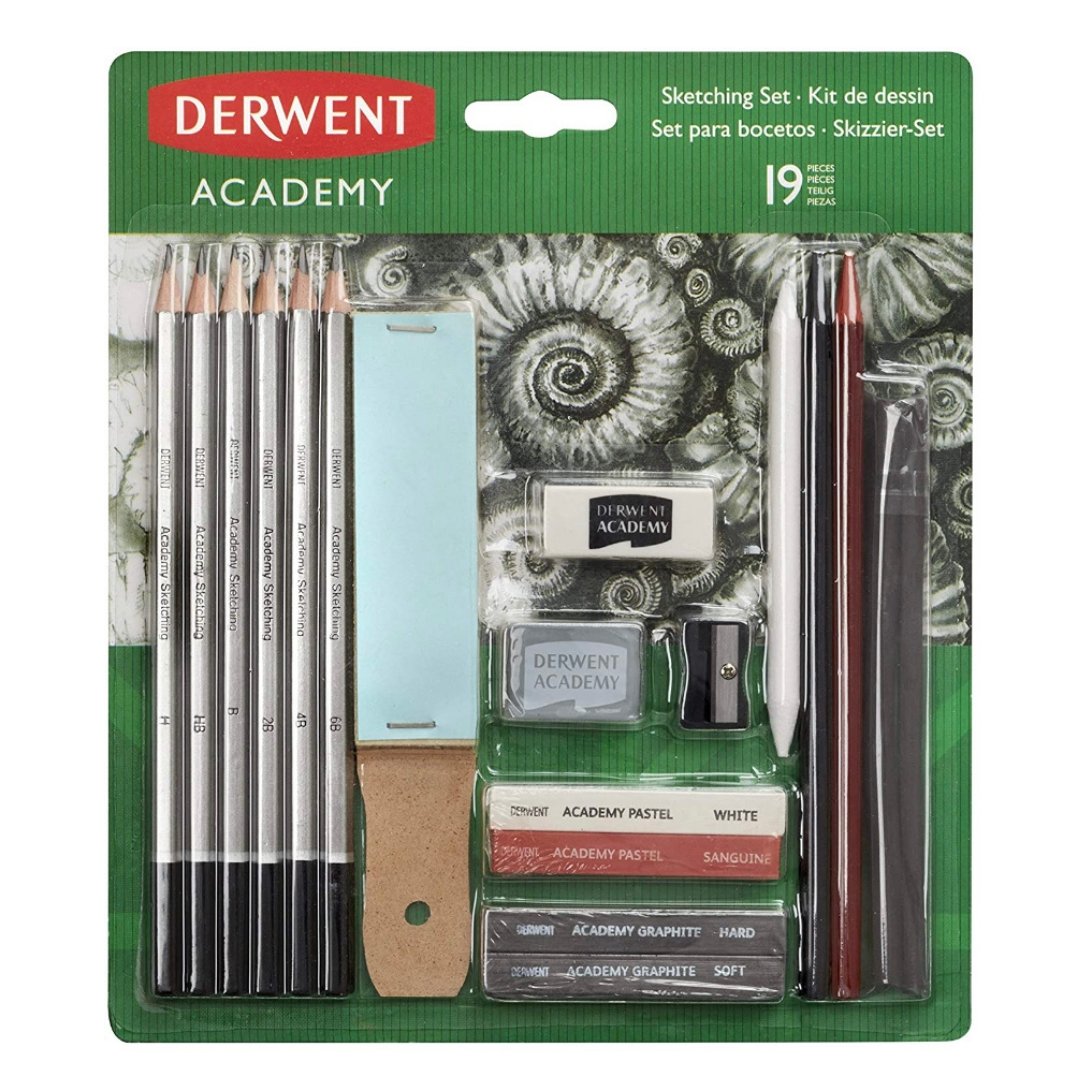 Derwent Academy Sketching Set 19
Regular price
Rs. 1,290.00
Rs. 1,290.00
Sale price
Rs. 903.00
Rs. 903.00
Save Rs. 387
In stock, ready to ship

Inventory on the way
Description:-
Quality art materials for people who love to draw and want to develop their skills.
Derwent has been making and creating artists pencils for over 175 years and using this knowledge and expertise bring you a range of sketching materials chosen for their quality and performance. This specially selected set of sketching media provides everything the apsiring artist needs to develop their sketching skills and experience. Including some essential sketching techniques, and the following contents:
Academy Sketching Pencils x6 - H, HB, B, 2B, 4B, 6B
Charcoal Pencils x3 - Light, Medium, Dark
Charcoal Blocks x3 - Light, Medium, Dark
Pastel Blocks x3 - White, Grey, Mid Grey
Willow Charcoal
Paper Stump
Kneadable Eraser
Plastic Eraser
2-Hole Metal Pencil Sharpener
There are hints, tips and projects to complete on the Derwent Academy website www.derwentacademy.co.uk to enhance your experience with Derwent Academy.
Features & details:-
Complete sketching set, Includes versatile, high quality sketching pencils, charcoal pencils and blocks, pastel blocks, willow charcoal, paper stump, kneadable eraser and 2-hole metal pencil sharpener, Perfect for budding artists and amateurs of all ages looking to develop their drawing skills

Essential tools for sketching: Contains 6 sketching pencils in various degrees, charcoal pencils, blocks and willow charcoal for broad expressive strokes - combine to achieve different effects

Accessories completing your sketching supply collection: Paper stump - for effective blending, Kneadable eraser for presice erasing or highlighting, Sharpener to maintain your pencils sharp points

Break resistant and easy to sharpen, Pencils suitable for many effects such as layering, blending, mixing and sketching

Contents: 1x Derwent Academy Sketching Set, 6x Academy Sketching Pencils - H, HB, B, 2B, 4B, 6B, x3 Charcoal Pencils - Light, Medium, Dark, x3 Charcoal Blocks - Light, Medium, Dark, x3 Pastel Blocks x3 - White, Grey, Mid Grey, 1x Willow Charcoal, 1x Paper Stump, 1x Kneadable Eraser, 1x Plastic Eraser, 1x 2-Hole Metal Pencil Sharpener, 2300365