Fluid Art Workshop with Prachi Bagnani (Sep, 2023)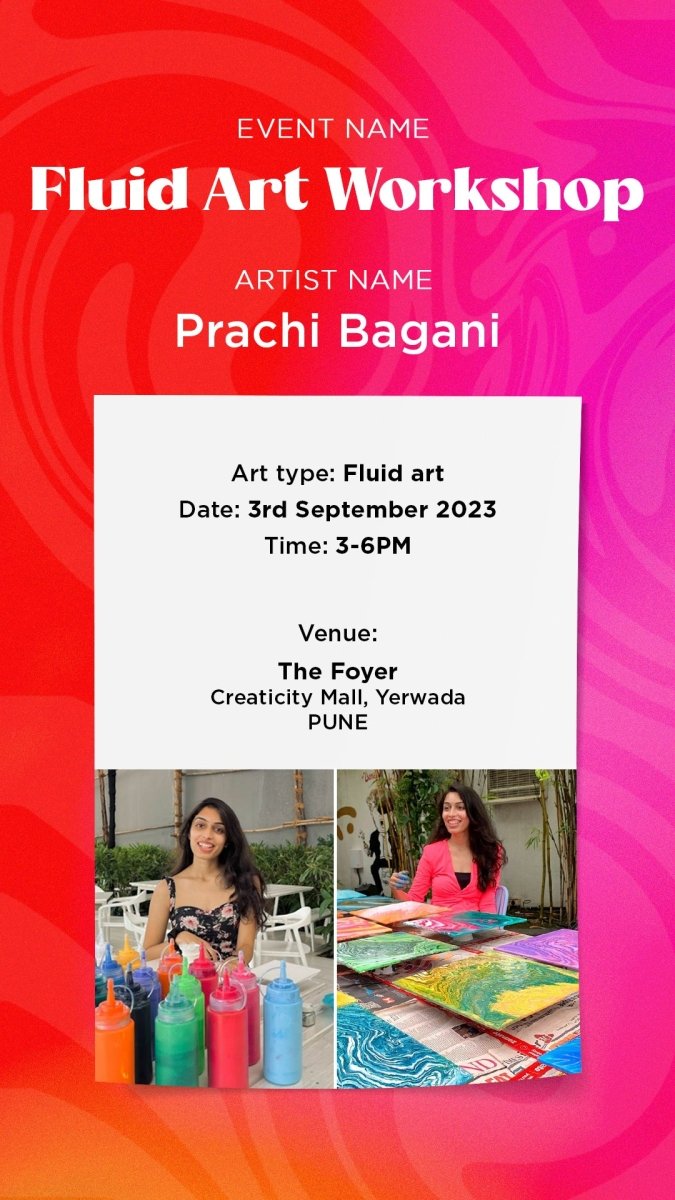 Fluid Art Workshop with Prachi Bagnani (Sep, 2023)
Regular price
Rs. 1,500.00
Rs. 1,500.00
In stock, ready to ship

Inventory on the way
Get ready to create a masterpiece as dynamic and unique as you! Pour away your worries at our fluid art workshop - with mesmerizing swirls, captivating colors and hypnotic patterns! 😍✨

Where - The Foyer, Creaticity Mall, Yerwada, Pune
When - 3rd September, 2023 (Sunday)
Time - 3:00 PM to 6:00 PM


Why shouldn't you miss this fluid art workshop?

* Unleash your creativity, no prior experience required!
* Immerse yourself in mesmerizing fluid art techniques.
* Discover the joy of creating stunning abstract masterpieces.
* Let go and embrace the flow - no restrictions, just creative freedom!


What to look forward to?

* Guided by an expert artist, create your own unique fluid artwork.
* Receive a certificate to commemorate your artistic adventure!
* We've got all the art supplies covered – just bring your imagination.
* Connect with fellow art enthusiasts and ride the waves of creativity together!
About the Artist:-
PRACHI BAGNANI
With a background in dentistry, Prachi Bagani embarked on a transformative journey into the world of creativity. "Ek Udaaan - A Voyage to Freedom and Art" stands as a testament to her pursuit of artistic liberation, kindled by the enchanting tapestry of clouds, sunsets, and skies. A true explorer of mediums, this multi-faceted artist welcomes you to partake in their odyssey of unbounded expression. Join them on this extraordinary artistic expedition!